Our team is prepared to deliver.
Our current areas of service include the Industrial, Project Management, Telecommunications Engineering, Furnishing and Installation (EFI), Network Equipment Programming, Tower Work, Testing and Turn-Up. From each division's inception, MGI's Network Development Team has consistently maintained its reputation of customer satisfaction and brilliance amongst its clients. We bring a team of highly trained and experienced Engineers, Project Managers and Technicians to the process, with the corresponding benefits: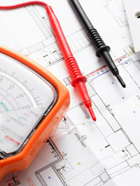 We understand that you require Telecommunication/ Tower Work and/or Electrical Contractors to help in the Installation, Programming, Commissioning and/or Troubleshooting of Telecom Technical Equipment or Power needs which requires Certified and Licensed professionals.
We are confident that MGI Intelesystems' Network Development Team is well positioned to deliver these projects, as we have extensive Telecom experience, including a strong history of delivering successful projects for Wireless Telecom Providers, Data Centres, Telecom Contractors and the likes. To ensure our continued success, we will still draw upon many of the same expertise that has delivered sustainable solutions for Carrier's, Contractor's and Sub-Contractor clients throughout Canada.
We have always established aggressive and achievable schedule. Our experienced project team is extremely effective in driving schedules by implementing the following tactics:
Anticipating potential delays from past project experience and acting to mitigate them early on in the project.

Utilizing our effective deployment protocols and wealth of experience to efficiently perform the work.

Drawing upon the depth and breadth of our multi-disciplinary team to staff up to required levels throughout projects to satisfy peaks in demand.
A network build that jeopardizes quality creates a long-term operational burden which is difficult to correct. The implementation of quality, without sacrificing schedule, is an essential deployment objective. Our qualified project team will utilize their know-how to ensure core standards are met, if not exceeded.
Although schedule and quality are a priority, it is important to acknowledge the fiscal realities of project budgets. As such, we execute our work with you as cost effective and efficient as possible and profitable to you our clients. Our experienced project team is aware of the importance of price competitiveness in business to business. We are capable of doing so because we have been involved in numerous data and telecommunication projects. We are up to date in today's technology changes minimizing learning time spent, hence cost effective and efficient while maintaining quality standards.

Track record of success and associated industry credibility.

Continuous learning attitude to stay at the forefront of the industry.

Project Management Services geared to ensure reliable infrastructure installation.