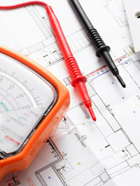 At MGI we see our staff not only as a workforce but as a supportive community. With our open-door policy everyone is encouraged to express their thoughts, whether it be ideas to benefit the organization or their own personal concerns. We thrive to provide a supportive work environment built on mutual respect and which essentially upholds the values of the company.
Due to the numerous and diverse divisions of the organization, there is room for advancement and exploration of other fields. We provide the option for growth within your field. Hard work and commitment to your position will always be recognized and handled accordingly. We also provide the option for change to another role within your field or to another division. Whether it is dissatisfaction with your current role, interest in another position, belief that performance can be greater in another position, or the desire to gain some experience in another field, we are open to finding the role that will be best suited to you and to the organization.
At Mardec Group Inc. we offer respect and growth. Through our encouragement and your commitment we can continue to walk the path of innovation and achieve our vision of being the ideal organization.
Mardec Group Inc. is a continuously growing, multifaceted organization. With divisions in Manufacturing & Supplying of Telecom Accessories, Installation & Project Management, Engineering and Research & Development, and various others, we are always seeking new individuals that will be the right fit for the MGI Team.
Telecommunications – Tower Riggers
Telecommunications – Technicians

Track record of success and associated industry credibility.

Continuous learning attitude to stay at the forefront of the industry.

Project Management Services geared to ensure reliable infrastructure installation.